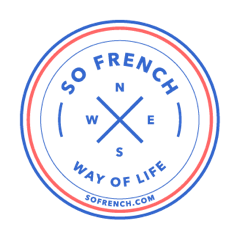 Original.  Authentic.  Confidential.
City Maps
60 Top Adresses by maps to organize your trip
Our city maps gather about 60 good addresses to discover the cities, the places: hotels, restaurants, pastry shops, concept stores, bakeries… the essential to help you prepare your trip.
You will discover what makes the charm and specificity of each French city.
Experiences
10 Must-See discoveries per city .
We select for you the 10 best experiences from each French city in order to discover the French life style:
You will bring back home authentic memories and perfect souvenirs!
Itineraries
5 circuits to discover each cities' best kept secrets
Carefully planned itineraries will make your life easier and save you time to decode a city, its secrets, its addresses, its culture and its history.
Whether you are a couple or a family, So French offers you turnkey tours… to optimize your 48 hours or 72 hours of discovery!
 Travel like a local.
Our maps include the best addresses of the selected cities. We take a very selective look and hope that you will share unique and authentic experiences, coupled with beautiful encounters.s
Experiences Inspired and Led by Locals.
Live experiences that locals will share and discover with you. Whether it is cooking classes, private tours of monuments, or a sporting activity, you will feel immersed in the culture and local life.
Anything but Ordinary.
Discover our dedicated collection of products.
Enjoy the Ride
Be part of the Family.
Want to get notified and receive our news and offers? Leave us your mail address and we will!